Seeking sun in Bulgaria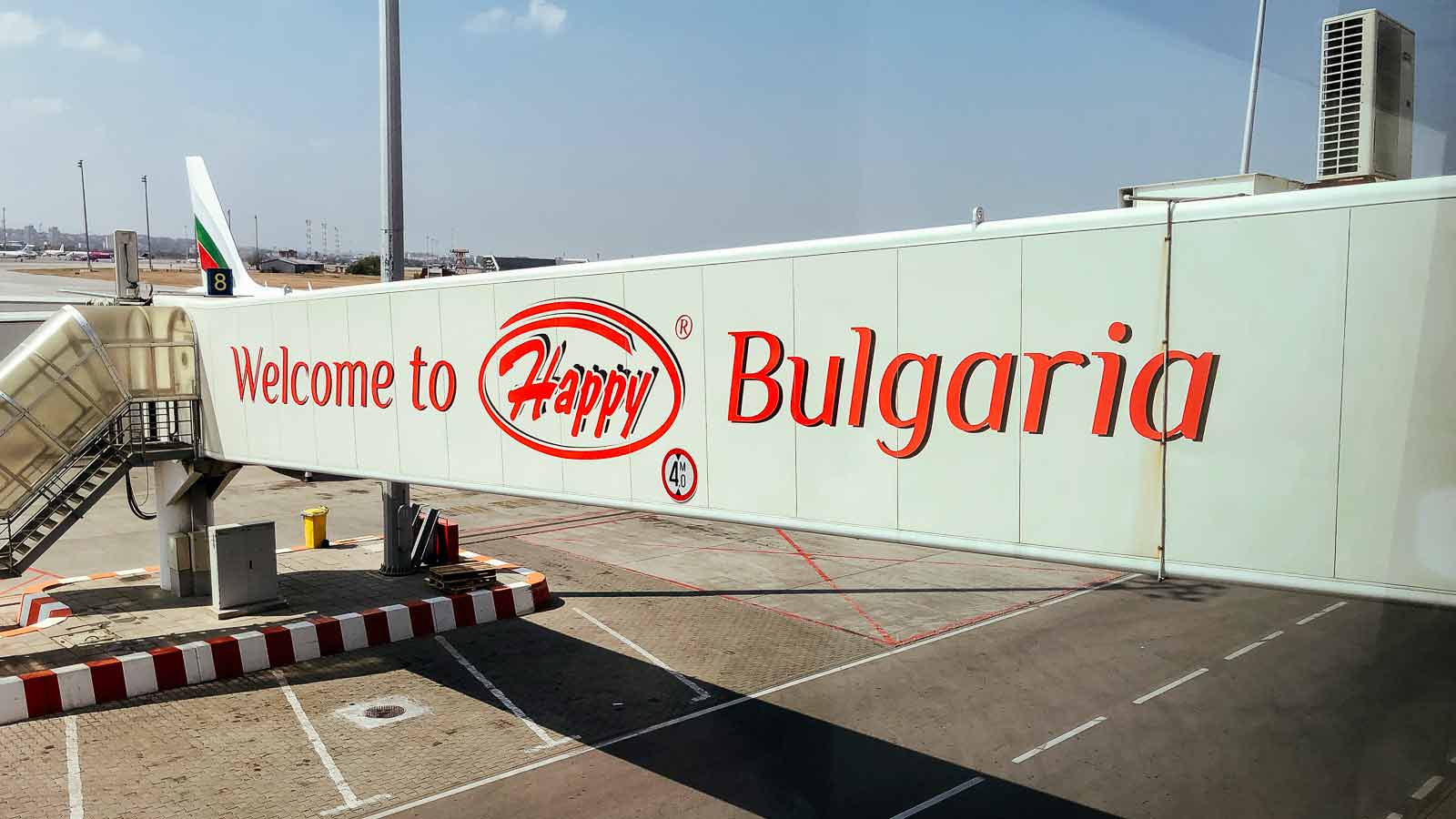 W

e're such fans of sunny weather that you might think we were part lizard. Or maybe it's just that we were living in a decidedly unsunny place ~ northern Poland ~ so we felt the need to reacquaint ourselves with beau Sol. Whatever the reason, in October of 2020 we found ourselves in another sunny place: Sofia, Bulgaria.

Yes, Bulgaria.

Growing up in the '70s and '80s, we never expected to be able to travel to Bulgaria. It was one of those places that was lost behind the Iron Curtain and was only talked about briefly during geography lessons. Now that it's possible to visit, we grabbed our chance and spent five days in Sofia, Bulgaria's capital.
---
Fun Fact:
Sofia is at almost the same latitude as Rome and farther south than Marseille, France.
---
How do you pronounce "Sofia"?
When I dropped our dog off at the kennel, Jacek (that's "Jack" in Polish) asked where we were going. This was no small feat as he spoke Polish and German while I spoke English, some French and about five words in Polish. None of which were "where are you going." But over the two years that we'd kenneled our dog with him, Jacek and I had figured out how to chat.
"We're going to Sofia," I said, pronouncing it so-FEE-a.
Jacek gave me a side-eye look and chuckled.
"SO-fee-a, not so-FEE-a. so-FEE-a is woman. SO-fee-a is city."
So, a man who speaks almost no English corrected my English. Another day, another serving of humble pie.
Where does the name "Sofia" come from?
The city was originally named Serdica after the Celtic tribe, Serdi, who lived there. In the late 19th century, the city was still part of the Ottoman Empire and the Ottomans preferred "Sofia" to "Serdica." Why? I don't know. But that was when the city began to be known as Sofia.
The Largo
Because Bulgaria was a Nazi Germany ally, Sofia was bombed heavily in WWII. One result of the bombings was that the buildings in the city center were badly damaged. In the early '50s, the rubble was cleared to make space for three governmental buildings. These buildings, called The Largo, are now considered prime examples of Socialist Classicism architecture.
Cyrillic script was created in Bulgaria
Are you like me and always thought that the Cyrillic alphabet was created in Russia? If so, then we're both wrong. It was created in Bulgaria in the late 9th century so that Christian services could be held in a Slavic language, which the locals understood, rather than in Greek, which the locals didn't understand.
Getting around Sofia
Downtown Sofia is compact and very walkable. With sunny skies and warm weather, we spent as much time as possible strolling through the city center.
A day without a schedule
One of the food tours canceled, so we were left with a free day. We decided to visit the National Historical Museum.
Eating well in Sofia
The long shadow of Bulgaria's communist era reaches even into their cuisine.
During the communist period, the government wanted all adults to work during the day and not spend time preparing meals, so the government introduced lots of restaurants to let people eat out. Different parts of Bulgaria spoke different dialects and had different specialties, so recipes were chosen and combined to create a standard menu.
During the communist era, people were required to live in the city of their birth. After the collapse of communism in Bulgaria, people started to leave the countryside for opportunities in big cities like Sofia. Because of this migration, some Bulgarians were concerned that old ways and traditions would be lost, so restaurants that specialized in heritage recipes were opened.
Some of our culinary favorites were:
Day trip + wine
Archeological evidence shows that grapevines have been cultivated in Bulgaria for at least 6,000 years. In the 1980s, Bulgaria was even the world's fourth-largest wine exporter. Since we are interested in wine, we arranged a day trip into the country.
---
Fun Fact:
Bulgaria has over 40 indigenous grape varieties.
---
Parting thought & shot
We had no idea of what Bulgaria would be like, we just knew that it would be an adventure. And it was a good adventure. Friendly people, great weather, yummy food and one of the oldest wine cultures in the world. When you get the chance ~ go! ~ even if it's just for a day or two. We hope to return soon and discover more of their fabulous wines.
---
Credits
(1) Close-up View of Frescoes on Ceiling in St. George Church in Bulgaria (15665495963).jpg
https://commons.wikimedia.org/wiki/File:Close-up_View_of_Frescoes_on_Ceiling_in_St._George_Church_in_Bulgaria_(15665495963).jpg. 15 January 2015, 04:46:23. U.S. Department of State. A close-up of the ceiling frescoes as U.S. Secretary of State John Kerry examines them in St. George Church – an Early Christian rotunda considered the oldest building in Sofia, Bulgaria – during a visit to the important regional ally by U.S. Secretary of State John Kerry on January 15, 2015. This image is a work of a United States Department of State employee, taken or made as part of that person's official duties. As a work of the U.S. federal government, the image is in the public domain per 17 U.S.C. § 101 and § 105 and the Department of Copyright Information.
(2) image found at http://stara-sofia.blogspot.com/2009/06/blog-post_08.html. As per their website, photos posted on www.stara-sofia.com may only be used for non-commercial purposes, with explicit reference to the source (translated from Bulgarian by Google Chrome).
(2a)File:Cathedral Saint Alexander Nevsky (23997168458).jpg https://commons.wikimedia.org/wiki/File:Cathedral_Saint_Alexander_Nevsky_(23997168458).jpg Photo by Deensel. 2 October 2017, 16:21. Used under the Creative Commons Attribution 2.0 Generic license.
(3) Sofia, 1984.jpg. https://commons.wikimedia.org/wiki/File:Sofia,_1984.jpg. A view of the Communist Party headquarters in Sofia, 1984. This file is licensed under the Creative Commons Attribution 2.0 Generic license.
(4) https://commons.wikimedia.org/wiki/File:Паметник_на_Съветската_армия_18.06.2011.jpg Permission is granted to copy, distribute and/or modify this document under the terms of the GNU Free Documentation License, Version 1.2 or any later version published by the Free Software Foundation; with no Invariant Sections, no Front-Cover Texts, and no Back-Cover Texts. A copy of the license is included in the section entitled GNU Free Documentation License.
(5) File:Chopska.jpg https://commons.wikimedia.org/wiki/File:Chopska.jpg. Photo by Popo le Chien. 29 April 2019, 13:01:01. This file is made available under the Creative Commons CC0 1.0 Universal Public Domain Dedication.