Venice 2019: I'm glad I brought my waders.
I booked a photography workshop in Venice, Italy a year in advance. Who knew then that it would coincide with the worst flooding to hit Venice in over 50 years?
Buying hip waders: the adventure before the adventure
The workshop instructor, David, was already in Venice when the flooding began. He kept us workshop participants updated and by the day before I left, it was clear that I needed something taller than regular rubber boots. Something like hip waders.
So off I went to the local sporting goods store, in search of. No luck, but no worries. I was staying overnight in Gdańsk because of my early morning flight, so I would just leave Słupsk a bit earlier and stop at a sporting goods store along the way.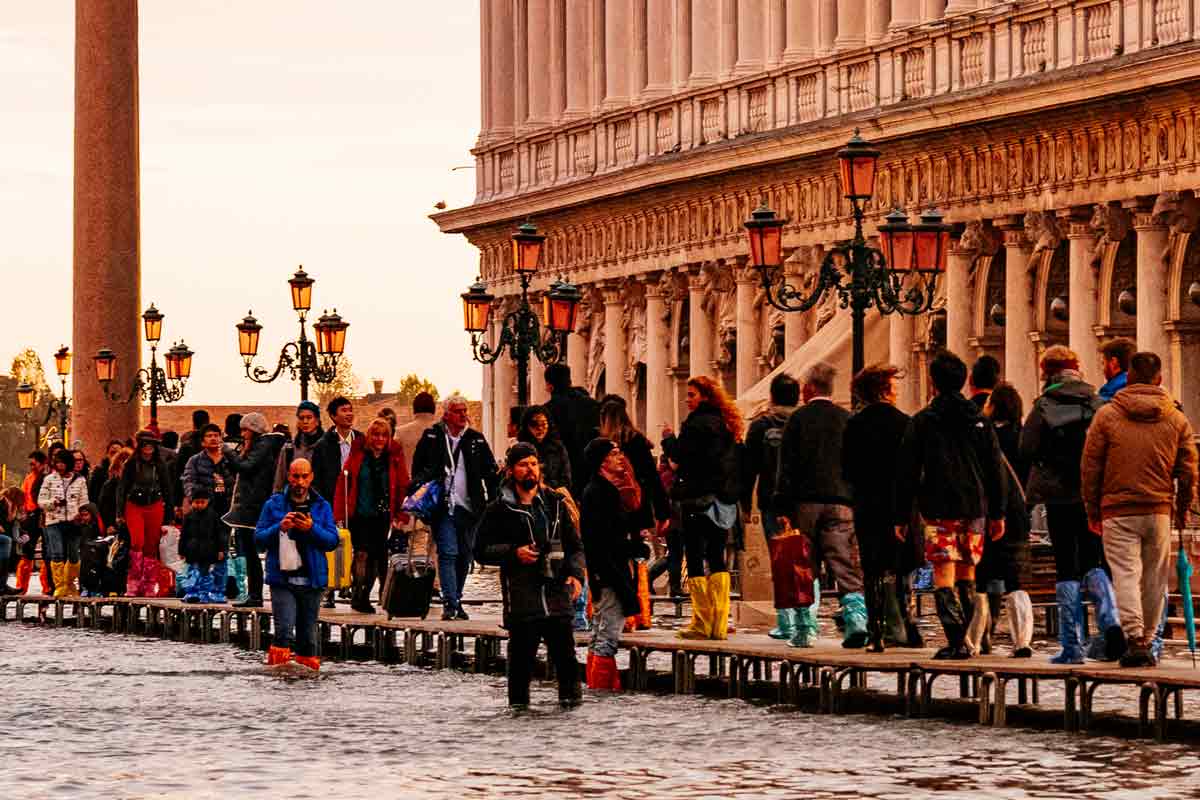 There is a sporting goods store conveniently located on the way to the hotel, so we stopped there. No hip waders there.
Not knowing where any other sporting goods stores are in Gdańsk, we checked into the hotel and did a google search. We found three other stores, two of which were in a shopping mall quite close to the hotel. So, thinking our chances were pretty good ~ at least one of the stores should have hip waders, right? ~ off we went.
No luck.
It was really busy, even for a Saturday night. Maybe the beginning of the Christmas shopping season? The heavy holiday traffic meant it took us over 30 minutes to exit the mall parking lot. By then, I was toast. The other store was in the opposite direction from the hotel, so I was tempted to give up.
I checked for an update from David in Venice: not good. Off we went to the fourth store.
The fourth store was the one ~ success.
Finally, at the fourth store, success. Hip waders purchased, we went back to the hotel so I could figure out how to fit them in my suitcase.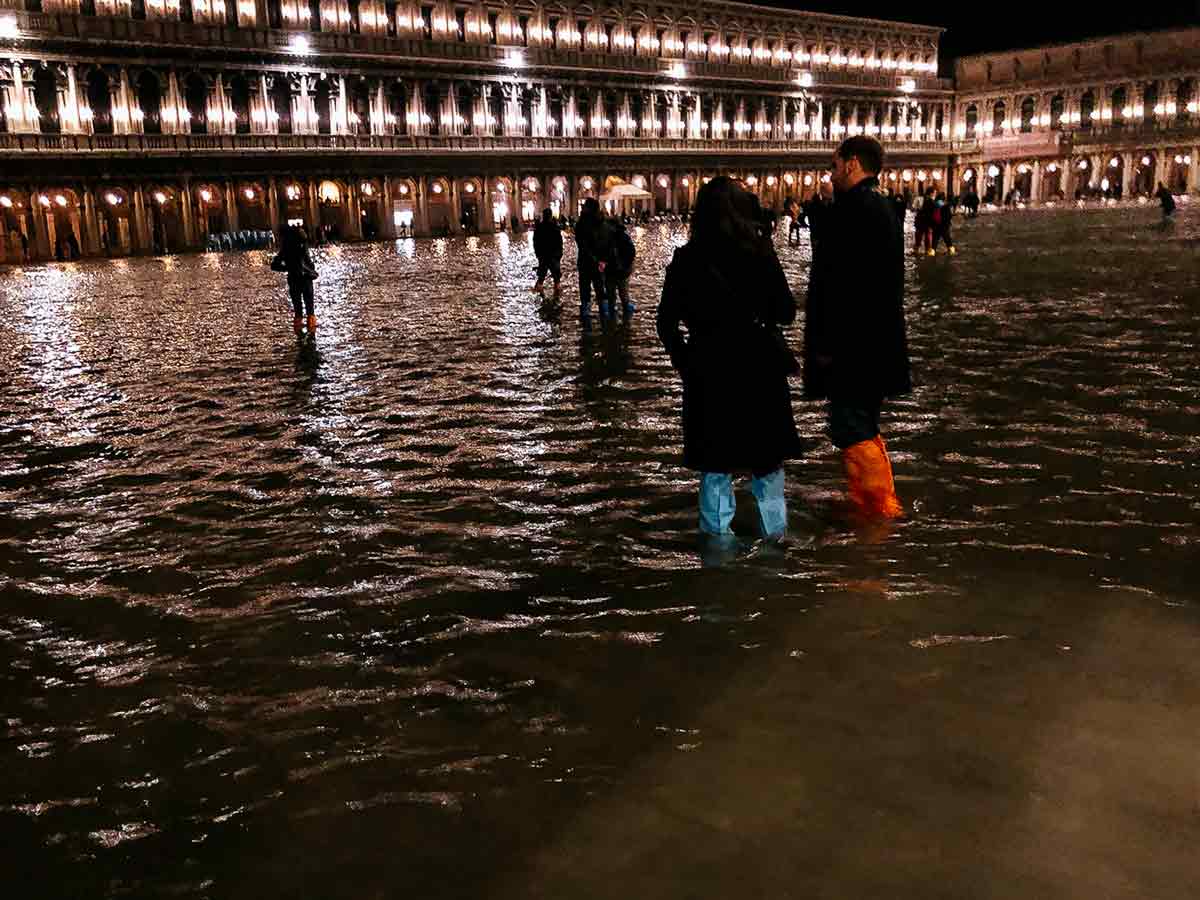 The adventure: getting to the hotel
To get to my hotel I had to wade the length (580 ft) of Piazza San Marco (the lowest point in Venice) where the water was over my knees. I'm glad I persevered in my quest for hip waders.
There were no hip waders for my suitcase, though. And, since my suitcase isn't watertight, I resorted to carrying it on my head. 580 ft may not seem very far but with the suitcase on my head, it felt like at least a mile. I would be a poor sherpa.
This is where the picture of me in my hip waders with my suitcase on my head should go. Sadly, I don't have that picture.
As I was wading through the water, I really wanted to have a picture taken. But there was no way I could hold the suitcase and take a selfie. I couldn't get anyone's attention ~ people wouldn't make eye contact (maybe they were afraid I'd ask for help carrying the suitcase?) ~ so you'll just have to imagine the scene.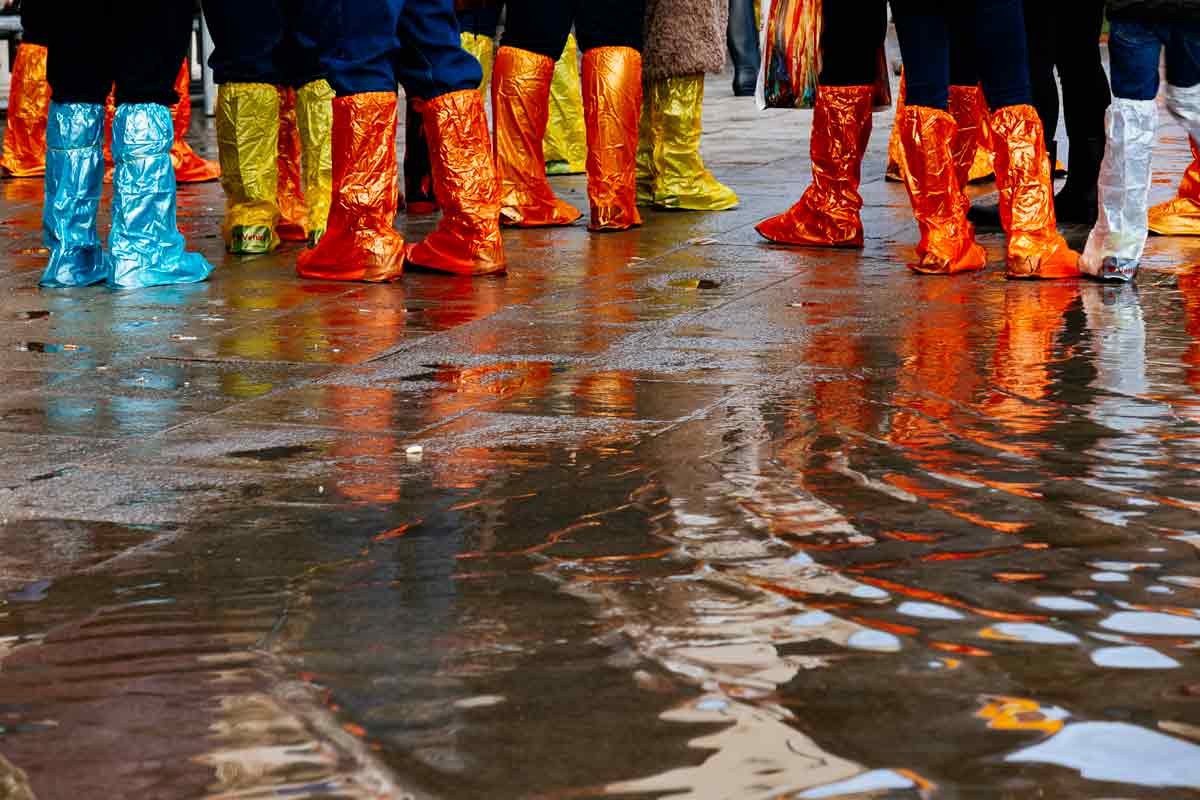 Cicchetti and fine dining in Venice
We were well-fed during the workshop. Venice is quite touristy, but there are many high-quality, (mostly) locally-owned restaurants for the discerning diner. Fortunately, David is a discerning diner and the restaurants were very well chosen.
Over the course of the week, we had seafood, lasagne, pizza, grilled lamb, gnocchi and a cabbage salad as big as a hat, to name some of the treats. And dessert. Scrumptious desserts. The most chocolate-y dessert was always my choice.
Cicchetti: the Venetian "small snack"
Lunches were a more informal event because everyone had the option of forgoing lunch if their photography muse was calling. Or, in my case, if the sun finally came out again.
Canaletto, Venice and me
I've wanted to go to Venice ever since I first saw paintings by Canaletto (real name: Giovanni Antonio Canal). He lived during the 18th century and was renowned as a painter of city views (vedute, in Italian).
Trivia: Canaletto's connection to Poland
Canaletto trained his nephew, Bernardo Bellotto, to also be a painter of city views. Bellotto worked in Germany and Poland, where he also called himself "Canaletto." His paintings of Warsaw, completed 1770–1780, were used to help reconstruct the city after it's near-complete destruction during World War II.
His (the original Canaletto) paintings were quite large. An example of one of his paintings of Venice, below, is 140.5 cm tall x 204 cm wide (55.3 in wide x 80.3" wide).
The workshop
This workshop was about more than photography, it was a mentoring workshop. It was a small group ~ five participants in total ~ plus David and his wife (an excellent photographer in her own right). The premise was that each participant would decide on a theme for the week and then present 12 photographs based on that theme to the group.
We each worked one-on-one with David, discussing our ideas, strategies and tactics for creating our 12 photographs. What we did not do, however, was go out and shoot with him or with each other.
My 12 photos of Venice
I decided to work with the idea of silhouetted people, in color, in the vicinity of Piazza San Marco. We had sunshine for the first day of the week, so my project got off to a great start. However, if I had known that the rest of the week would be cloudy, save for a few hours on Friday morning, I probably would've chosen a different theme.
Here are 11 of my 12 photos. The 12th photo has a clearly recognizable face and I'm not comfortable posting a photo like that on the internet, so, I'm leaving it out. And, truth be told, I think it's the least of the 12. But the remaining 11 work nicely.
Lessons learned
I need to get a lot more comfortable getting a lot closer to people in order to make better photographs.
Our projects were organized thematically/compositionally, not around a loose narrative like my blog posts. This was a different way for me to think about telling a story/creating a body of work. It's an interesting way and I will pursue it in future work.
Having a more experienced photographer critique my photos was welcome. It's so easy to get lost inside your own work that it can be difficult to make progress.
In addition to being a renowned photographer, David is also a successful author and businessman. I enjoyed talking with him about running a creative business and branding. He had good suggestions about branding in particular.
Venice is wonderful and I can't wait to go back, this time with Rosemary. Flooding or no flooding.
Parting thought
Six different photographers all spent the same week in the same city and everyone's final presentation was different. It was fun to see how everyone sees the same place in their own way.
It's also a good reminder that when I think a scene offers nothing to photograph, certainly someone else could find something. So I should just look closer.
Parting shot